Your Customized 22-Day Plan to Fully Activate M.A.T. to Burn Fat 24x7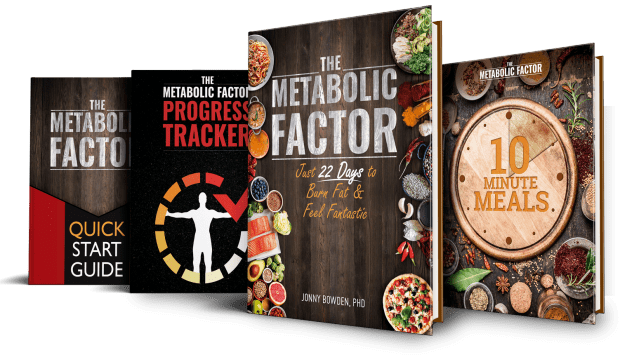 Over 147,312 Have Upgraded Their
Fat Burning Type… and Now It's Your Turn
The Metabolic Factor represents my life's work.
It's an easy-to-understand blueprint that contains everything I know about optimizing IGF-1 levels naturally…
And the best part is, it only takes a few simple changes to which foods you eat and when.
That means there is NO exercise required…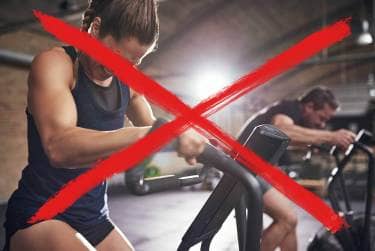 In fact, if you're not exercising now, I do NOT want you to start during your first 22 days.
Plus, unlike the trendy "keto" and carb restricting plans…
I want you to occasionally feast on carbs.
Sound crazy? Well it's fully backed by the latest science.
You see, when you cut carbs and calories on a traditional diet, your metabolism actually slows down…
And that makes perfect sense.
If all of a sudden you start eating less, your body is programed to think that food is scarce…
So it starts burning fewer calories.
But, if you strategically add in high-carb, high-calorie meals…
Like pizza, pasta, nachos…
Even decadent fudge brownies…
That tells your body there's plenty of food around…
So your metabolism kicks into HIGH gear… And actually helps upgrade your fat burning level!
Of course, you can't over-indulge on these carb feasts every day.
The trick is to use them strategically – like I show you in Metabolic Factor – and you'll keep your metabolism humming along…
Burning fat at top speed without ever feeling deprived.
And that's just ONE difference that makes The Metabolic Factor stand apart from every "diet plan" out there…
Here's Why The Metabolic Factor is Different:
| Traditional Diet | Metabolic Factor |
| --- | --- |
| Starve yourself of carbs | Feast on carbs |
| Count calories | Never count calories |
| End up with soft and saggy muscles | Tighten and tone your muscles |
| Need super-human willpower… | Let hormones control hunger & cravings |
| Suffer yo-yo weight gains | Enjoy consistent weight loss |
| Get stuck on a one-size-fits-all plan | Customized plan for your fat burning type |
| Damage and slow metabolism | Repair and improve your metabolism |
| Disrupt IGF-1 | Naturally optimize fat-burning IGF-1 |
| Destroy calorie-burning M.A.T. | Fully activate calorie-burning M.A.T |
Not too shabby… right?
I simply haven't seen any other meal plan that can offer you all of this in one easy, enjoyable, and lifestyle-friendly system.
However, to fully-activate your fat-burning M.A.T., you need more than just a meal plan… you need a step-by-step system that works with your whole body.
You need a system that optimizes your IGF-1 levels so the full calorie-burning power of your M.A.T. can be unleashed.
Which is why today, I'd love to give you:
The Metabolic Factor IGF-1 Optimizing Blueprint

Your 22-day guide to the most enjoyable weight loss ever!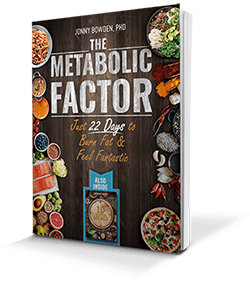 You see, eating the right foods at the right times IS a powerful way to optimize IGF-1… but it's not the only way.
Which is why I've also included 5 additional natural IGF-1 Optimizers in The Metabolic Factor Blueprint at NO additional charge:
IGF-1 Optimizer #1:
Tasty Craving Killers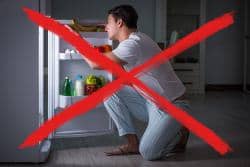 These are 3 simple snacks that stop sugar urges and hunger pains dead in their tracks.
Plus they help optimize IGF-1 even more!
You're absolutely gonna love these tasty treats!
IGF-1 Optimizer #2:
Daily Fat Burners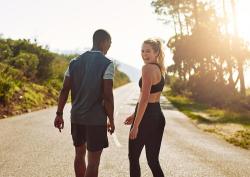 These are those everyday activities like walking around the house and even brushing your teeth.
Well, these movements are about to become potent fat-burners for you.
And because of that… For 22 days you won't have to "exercise" at all.
That's right: I do NOT want you to exercise.
Now, if you're already following an exercise program you like, you don't have to stop.
However, if you're not already working out, now is NOT the time to start.
Instead, I'm going to give you an easy plan that uses common, everyday movements to optimize IGF-1.
IGF-1 Optimizer #3:
Easy Sleep Enhancers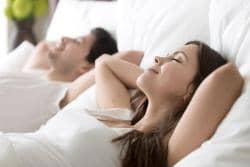 You'll use my "15-Minute IGF-1 Sound Sleep Technique."
This helps put you in a deep, relaxing sleep that helps optimize IGF-1, rejuvenate your fat-burning M.A.T…
And awaken you to the best natural energy you've had in years!
IGF-1 Optimizer #4:
Quick Stress Relief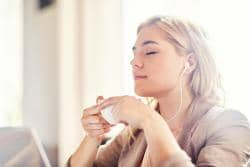 Stress can be a serious problem for your fat-burning type.
That's because even normal stress from work, family, or that never-ending to-do list can release a flood of the stress hormone cortisol into your body.
Too much cortisol can force your body to attack your own M.A.T., age you faster, and disrupt IGF-1.
So it's critical that we get your stress under control.
That's why you'll love my "4-minute Relaxation Relief."
This simple technique helps neutralize cortisol and takes your body to the next Fat Burning level.
And it's so easy that it only takes 4 minutes!
IGF-1 Optimizer #5:
Simple Detox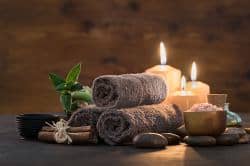 Did you know there's a 15-minute "Spa-Like Experience" that you can create in your own home for less than a few pennies?
This allows your body to effortlessly release some of the toxins you've stored over the years.
These toxins are a major factor preventing you from losing weight and feeling healthy!
When these toxins have been flushed from your body, your IGF-1 naturally optimizes to the level that maximizes your body's ability to burn fat.
I've been using these five steps with clients just like you for years…
And as you saw earlier, they can create…
A life-changing transformation in just 22 days.
When you get your personalized copy of the Metabolic Factor, you'll be blown away by just how easy the steps are to implement.
Getting this plan to as many people as I can has become my mission in life.
You see, I wasn't always the full-time fat-burner I am today.
In my younger years, I struggled with addictions of every sort: alcohol, drugs… even food.
My weight was all over the place. My health was in ruins.
And I was just shy of my 40th birthday.
I finally realized that if I didn't clean up my life - I would never live to see 40, let alone 50 or 60.
The problem was, I couldn't do it on my own.
I had to accept the help of my friends and family.
Without their help, I would have never gotten clean and sober.
I would have never earned my Ph.D. in nutrition.
And I would have never lost the weight I needed to regain my health.
Their life-changing support is the reason I dedicated my life to helping others.
And it's the reason I created The Metabolic Factor for folks like you.
It's written in a cut-to-the-chase manner you can breeze through.
Everything you need to know about each of the 5 IGF-1 Optimizers is laid out in 75 simple-to-read pages.
You can absorb and apply all 5 in a matter of minutes.
Plus, it comes with the Metabolic Factor Daily Nutrition Planner.
This means you'll never have to guess what to eat next.
It's all laid out for you in the easiest plan I've ever created.
The Metabolic Factor is designed to
give you maximum "food freedom."
That means you can enjoy delicious carb feasts that create even greater weight loss.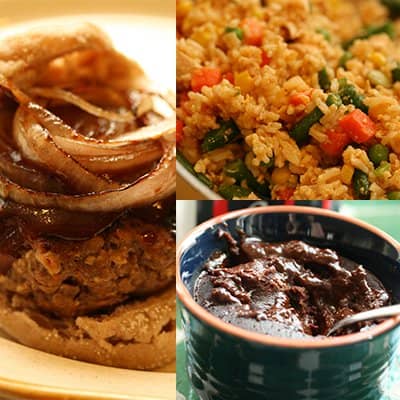 These carb feasts include treats like this BBQ burger with sweet potato fries…
Or this amazing Chicken Fried Rice…
Or even this unbelievable Chocolate Lava Cake.
Yes, Chocolate Lava Cake is a weight loss food when you follow my Metabolic Factor Blueprint!
It's a plan that kicks your metabolism into action as it awakens your metabolically active fat-burning tissue in just 22 days.
That's all it takes!
Today, You Can Lock in A Once-In-A-Lifetime Discount
Now, if the Blueprint and Nutrition planner were all you receive today, they would still easily be worth the $97 retail price my publishers wanted me to charge.
And when I toss in the bonuses you'll see in a sec, that $97 is going to sound borderline crazy.
Here's how I managed to get you the discount you're about to see:
I convinced my publisher to pre-order 40,000 copies of The Metabolic Factor System.
That let us negotiate a massive discount with our printer.
I know, that sounds like a gutsy move... and frankly, it was.
But I've seen WAY too many folks just like you, who – thanks to the Metabolic Factor system – are finally walking around in the bodies they've always wanted.
Once my publishers saw these results…
And once they felt my passion for helping you transform your body and your life…
They were SOLD.
And that's why I can offer you the COMPLETE Metabolic Factor system for the remarkably low price you'll see a bit further down.
This is such an unbelievable discount, I'm not even positive that it's still available. You'll have to check below.
After these initial copies are sold, we may have to go up in price.
Before you look at the price, I want to show how…
You Get Even More Fat-Burning Tools When You
Secure Your Copy of The Metabolic Factor!
To sweeten the deal, and help you burn fat even faster, you'll also receive the following FREE gifts:
Gift #1: The Metabolic Factor 10-Minute Meals…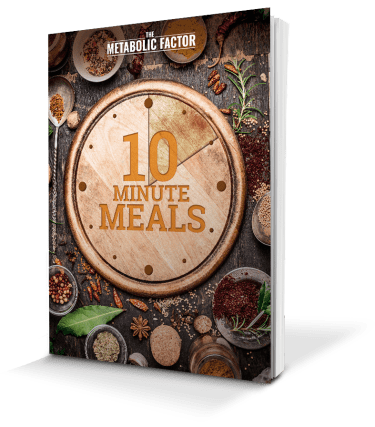 Wouldn't you like to have a ton of delicious, easy-to-make recipes at your fingertips…
…recipes designed with the entire family in mind, including the kiddos…
…with most taking 10 minutes or less to prepare…
…using simple, common ingredients you can find at any local grocery store?
I've worked with a gourmet chef to make sure these meals delight even the pickiest eater in your family…
And a huge variety of metabolism-boosting "carb feast" meals and desserts.
Remember, these are the secret to keeping your metabolism high, and your M.A.T. burning fat at top speed.
Just take a look at these tasty treats… can you believe these are the key to burning more fat?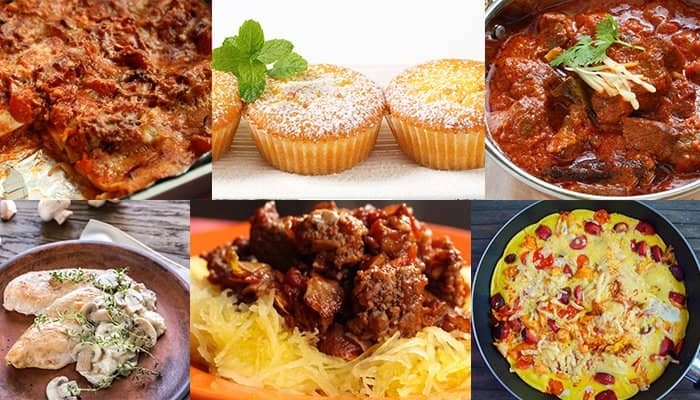 Well they're not the only mouth-watering secrets in this meal plan.
I've also included some of the MOST DELICIOUS Metabolic Milkshake recipes you can imagine!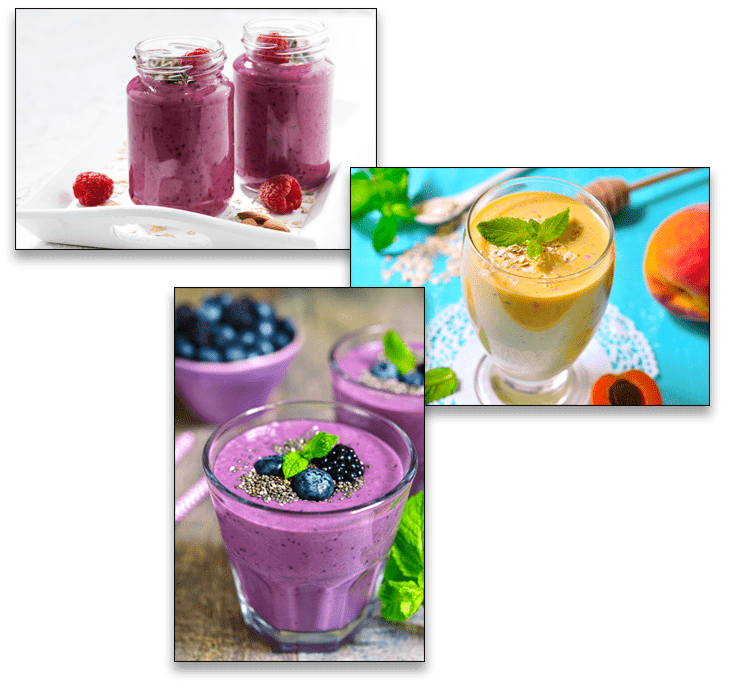 Like this vitamin boosting Cherry Amaretto shake…
Or this antioxidant rich Chocolate Cashew Crunch…
Or this youth-enhancing Pumpkin Spice Apple Strudel shake.
Enjoy this in the morning, when you're on the go, or when you don't have time to make a full meal.
If you like milkshakes, you're really in luck today.
My Metabolic Milkshakes and these 10-Minute Meals give you the flavors you crave, the tastes you love, and the free time that you may have never imagined was possible.
That's what you'll receive in my taste-bud-tempting collection.
PLUS:
I'm including your exact day-by-day, meal-by-meal plan that you can customize based on your personal preferences and tastes.
The only way to grab these delicious meal and shake plans is to reserve your copy of the Metabolic Factor by selecting your preferred option below.
Plus, when you do, I'll also give you these 4 additional free gifts:
Gift #2: The Metabolic Factor Quick Start Guide…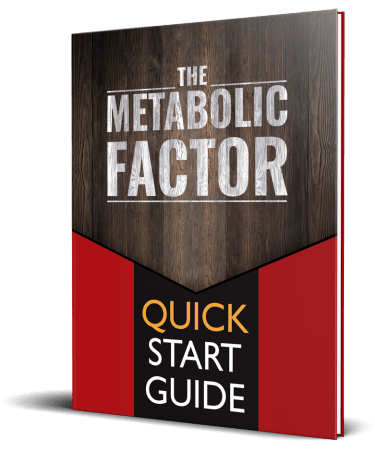 While the Metabolic Factor 22-Day Blueprint is a quick and easy 115-page read…
You'll probably want to get started the minute you secure your program.
That's why I condensed the entire Metabolic Factor Plan into a "skim it in seconds" Quick Start Guide.
You'll get the gist of the program in less time than it takes to look over the menu at your favorite restaurant…
…and you'll be off to the races, burning more fat and living the energetic lifestyle you so richly deserve.
Gift #3: The Metabolic Factor Progress Tracker…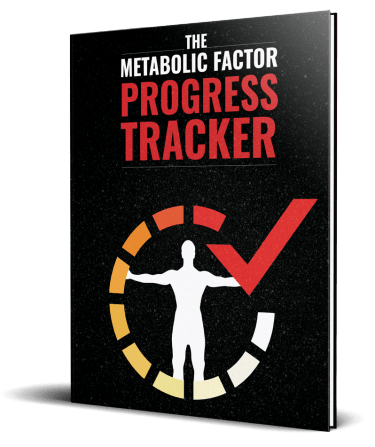 Even though your M.A.T. will be optimized in just 22 days…
I've found that having a simple daily calendar to track your results is a lot of fun!
It allows you to measure the fat loss from specific parts of your body:
The places where you most want to lose weight.
You'll also be able to gauge how quickly your M.A.T. is activating.
And now you can literally SEE your M.A.T. increase so you KNOW you're right on track!
Plus it helps you notice the "little things" that dramatically improve your life:
Your energy skyrocketing…
Aches and pains disappearing…
Digestive issues, mood and sleep improving…
And so much more!
You'll find these little changes add up to massive improvements in how you look and feel, as well as even faster weight loss results.
Gift #4: Metabolic Motivation Emails…
I am a big believer in taking my clients by the hand. These are smart, busy people, much like yourself….
And it really helps to hear from me daily, even if it's just a few words of encouragement, or a reminder here and there.
That's why I created my 22-Day Metabolic Motivation: daily email messages that will give you guidance, tips, and inspiration.
It's like having me walk beside you throughout the 22-day M.A.T.-activating plan, as you watch your body transform before your eyes!
I've seen just about every obstacle, every trap, every pitfall that trips people up…
…so just when you've encountered your first?
You should have an email from me at just the right time with just the right advice to help you stay on track.
Finally, there's My Metabolic Factor SUPER BONUS:
Gift #5: Weekly Coaching Calls With Me!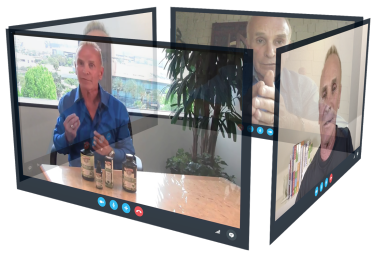 Look: I've seen what this kind of weight loss success can do to you.
The changes you are about to see in your body will make you feel amazing, and it may actually be a bit of an adjustment.
This kind of dramatic mind, body and spirit transformation can often be overwhelming.
So, I want to personally coach you through this transition and into the lean, active, and healthy next phase of your life!
That's why I'm including FOUR Coaching Calls with your purchase today… absolutely FREE.
Did you know that my Master's Degree is in Psychology?
I've coached literally thousands of clients over the hurdles of success, as well as unexpected life challenges that may come up.
And now, I'm going to coach you.
Normally I charge $197 for each coaching session.
However, I wanted to give this to you as a special Super Bonus at no extra charge…
So I've taken the four TOP RATED coaching calls I've ever done…
…and once every week, you'll receive a new call to keep you on track.
And, at day 22, you'll get my "What To Do Next" Coaching Tutorial.
This will help you STAY a full-time Fat-burner…
…and keep your weight loss going for as long as you like!
The last thing I want for you is to experience that frustrating yo-yo weight gain…
These coaching calls will help you stay locked in to your new, enhanced Fat Burning Level.
All of this... every report, every call, and every other bonus is waiting for you inside The Metabolic Factor Members Area…
…and you can only access it by selecting your preferred ordering option below now.
Do that now, and I'll lock in the discounted price while it's still available:
Regular Price: $67.00
Checking Discount Availability